STEP 6:  WORKING GROUPS
Set up working groups as soon as possible, this makes the whole project work more efficiently and effectively. Giving a strong foundation.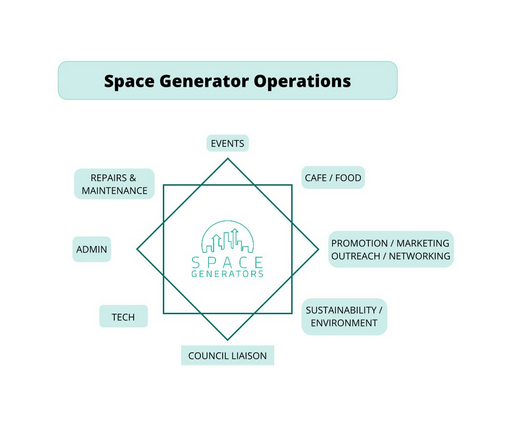 6.1 Form a working group decide a coordinator and Create a time each working group meets.  Publicise the time and place and contact person / details.
6.2 Groups such as
6.3 Admin – Legal – Accounts – council Liaison – paperwork – volunteer coordination – self organising systems – crew training. Inter working group co-ordination – income streams
6.4 Events– booking timetable – fundraising
6.5 Media and Messaging – Outreach Promotion marketing – networking – social and mainstream media -publicity
6.6 Sustainability / environment – building in sustainability into all aspects of CEC working group operations. Eco ethics – providing centre groups with a list of eco friendly / sustainable providers / production links.
This working group formulates a plan for the gradual implementation of renewable energy supply to the whole building floor by floor. Wind, solar eg https://www.bimblesolar.com bike power https://www.instructables.com/id/How-To-Build-A-Bicycle-Generator/ , energy gym https://www.tgogc.com
6.7 Art / Decor – art and design of project graphics and decor etc. Making a creative space with multi medium arts equipment within the centre to encourage creativity as a regenerative process for all project users of all ages.
6.8 Tech – Website, social media, comms, cyber security, safeguarding digital assets, Free internet cafe set up using recycled computers.
6.9 Regen – crew welfare /wellbeing – regenerative culture – weblink
 6.10 Catering – VEGAN Cafe/ Food and kitchen SUSTENANCE – income stream and promotion of vegan sustainable diet.( info and displays)
6.11 Repairs and maintenance- Building assessment, compiles repairs list – structural, electrics, plumbing, HNS, Fire safety
6.12 – Caretaking  – Volunteers who live in the building and keep project running and flowing
6.13 – Gardening / permaculture  and front of house, roof garden, window boxes. Local food production. Vertical farming.